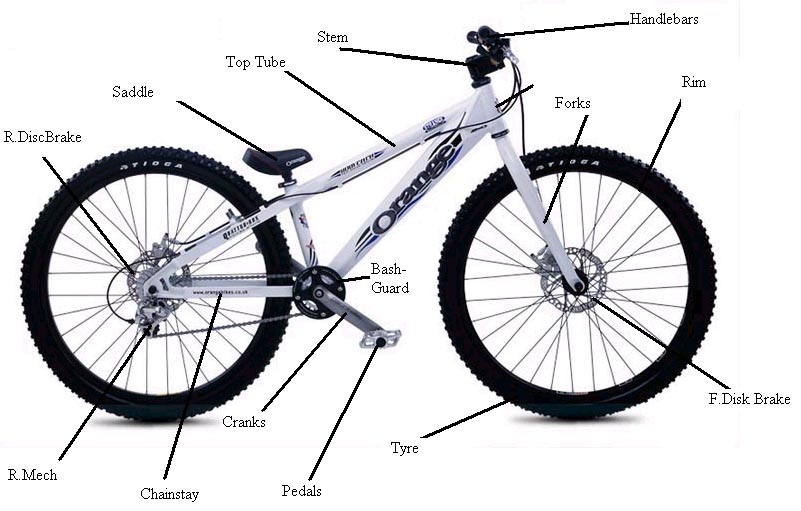 Frame and Forks:

The best frames for trials are ones which are specific to trials like the Pashley 26Mhz, Orange Zero and Giant Martin Hawyes etc. Frames can cost from 100 - 900 so shop around before u buy one. The size should be about 11in to 15in or smaller/bigger down to personal preference really. A quality frame would be strong, reasonably lite, good on the back wheel, high bottom bracket and a fairly steep head tube angle such as the Pashley. As for forks u can opt for rigid or suspension and thats down to personal preference as i prefer front sus. But balancing with rigids is easier and so is front hopping. A lot of riders us Fatty R's but other good forks are pashley, orange and brisa.
Wheels and Tyres:

Obviously wheels and tyres play a big part in trials. The wheels have to be strong and to do this the build has to be good. Most riders opt for the Mavic D521 on the back which is a strong rim which is reasonably cheap. The rear hub needs to be strong as u r using the freehub all the time this is y it needs to b strong. Hope make great hubs and have a life time warranty. But if u break these then u could go for a Chris King which r amazing but cost a bomb at 300 pounds! For the front most people use Mavic X517 rims as they r lite and the hub probably a hope ultralite but people use xt and lx which are good too. For tyres alot of people use big fat ones for the back like IRC El Gato and Kujo these are very grippy and pitch flat resistant. The Michelin Hot S are also very good and for the fron tyre most people use a thinner one as its lighter.
Brakes:

These play almost the biggest role in trials and have to be pretty reliable if u dont wanna kill ure self flying off the back of the bike when they fail. U can get disc brakes which havent really caught on in trials yet, maguras or v-brakes. Maguras are used by a rage of people but pesonally i sont like em i dont like the feel of em and wat i've seen they look like a bitch to set up! Its down to personal preference but the maguras do have great modulation. I prefer v-brakes and u can pic em up for as low a 15. A quality v-brake is the Shimano XT/XTR and the Avid range is great.
Cranks and Pedals:

Cranks need to be pretty strong as u put them up to alotta abuse and put alot of pressure on the tapers. FSA Power Pro cranks aren't bad as u can pic up just the cranks for 25 however i have heard they r prone to rounding off a sometimes bend easily. Middleburns are great but pricey, but u save money in the long run as there stiff as fuck and have a lifetime warrenty. The Race Face cranks are tough too but pricey. U have a choice with pedals between platforms which have pins in and can stick to ure feet to much or caged pedals.
Gears:

The rear mech should be short cage so u get more clearence so go for a shimano road one like a 105 or tiagra or somthing. A good tough chain is required as these are prone to snapping and it kinda hurts when it does get a rohloff one there really strong. Shifters u can either get a thumb or grip shift this is also down to personal choice as i prefer thumb shifters. But these are more expensive.
Handlebars and Stem:

Choosing stems is trickey as u have to know wat u like a short or long stem, a long stem will help u get to back wheel easier and shorter harder. Also u have the choice of flat bars or riser bars. Just try different ones out on other peoples bikes and see wat u prefer.